Featured Need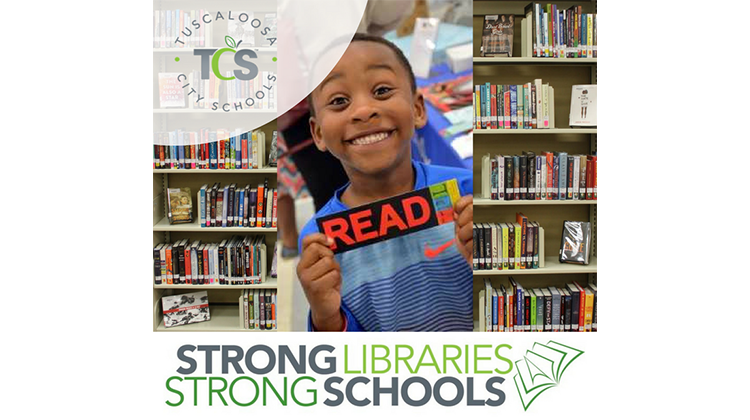 STRONG LIBRARIES, STRONG SCHOOLS
(Tuscaloosa City Schools)
The impact of reading engagement on improving literacy and learning cannot be overstated. A growing body of research shows that reading engagement is a key element in a student's success. Researchers found that learning opportunities generated by engaged readers themselves were roughly equal to several years of education at school.
Tuscaloosa City Schools (TCS) is aiming to build a culture of literacy where reading, writing and literary-based critical thinking activities are woven together throughout the school. This will create the desired culture where literacy skills and a love of reading become the heartbeat of the school.
Engaged readers grow in learning and literacy because they:
Become immersed in their reading — they read for pleasure, and to satisfy their curiosity
Discover information and stories that help them learn and achieve
Get motivated to read and learn more — which makes reading easier and more enjoyable, and creates a 'virtuous circle' of constant improvement
Simply put, when children have access to good libraries with plenty of good books and adequate staffing, they read more – and when they read more – their reading and learning improve.
Your contribution will help us reach that goal!
Donors will be recognized based on the following tiered donation levels:
Friend ($20+)
Supporter ($100+)
Partner ($250+)
Advocate ($500+) Note: A bookplate with your name will be placed on a book in the library for all 'Friend' to 'Advocate' level donors
Sponsor ($1,000+)
Additionally, if you wish to donate at the 'Champions of Literacy' donor level ($75,000 for elementary schools, $100,000 for middle schools and $125,000 for high schools), to pay for librarian-developed collections of digital and print resources, you will be invited to name the library to which the donation is directed (libraries that have already been named are not included in the list below). To donate at this level, please contact Andrew Maxey, Director of Strategic Initiatives, at (205) 759-3722.
THANK YOU FOR YOUR CONSIDERATION!!! CLICK HERE TO DONATE
Recent Donations
EB
Eric and Tiffany Bolton
PH
Patrick & Elizabeth Hamner
Business Donation related to this need
How are our schools doing individually?
Arcadia Elementary School
Central Elementary School
Martin Luther King Jr Elementary School
Oakdale Elementary School
Paul W. Bryant High School
Rock Quarry Elementary School
Skyland Elementary School
Southview Elementary School
The Alberta School of Performing Arts
Tuscaloosa Magnet Schools
University Place Elementary School
Woodland Forrest Elementary School